From Despair to Repair – Our Story Alexis & Ursula
There was a time when Alexis and I (Ursula) loathed to share our mental health stories.
We were painfully uncomfortable with the bottomless pits of where our minds and so called 'life' had once taken us. Both of us felt like we were broken. That sharing our stories was just a painful reminder of our perceived inner inadequacy and failure. We felt we were the only ones experiencing emotional despair. And that being open and vulnerable was a front row view to further inner humiliation.
We're happy to share that we don't feel that way anymore. And are aware that by being open and emotionally transparent is both our saviour and a lifeline for others.
Alexis & Ursula Interviewed by 3B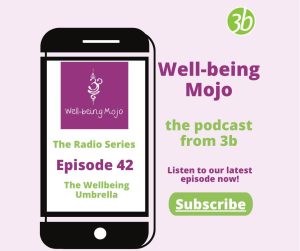 On that note, let's introduce you to Sue and Clare from 3B, a mental wellbeing company. Two delightful ladies who we have the fortune of knowing and being interviewed by.
They run an inspiring weekly podcast called Well-being Mojo. Where they understand that when you have your wellbeing-mojo on, you're firing on all cylinders. Accepting of whatever comes your way. They believe much like us at Wellbeing Umbrella, that one size does not fit all. Through their podcast they aim to help you find your own well-being mojo. Exploring the many aspects of mental wellbeing.
We'd love to share the episode with you where we talk openly about our mental health battles. The lead up, the aftermath and our ways back to sanity. Plus, reflect on how these once perceived setbacks led us to do the work of Wellbeing Umbrella today.
Listen to the podcast link about our journey to the birthing of Wellbeing Umbrella below to learn more.
If you'd like to check out the full library of 3B's well-being mojo weekly podcast you can access it HERE.
Disclaimer: The information contained on this Site is provided for general educational purposes only and is not intended to diagnose, treat, cure, or prevent any disease or health condition. Please consult a qualified health care professional to diagnose your health condition and prevent self-diagnosis. We do not dispense medical advice or prescribe or diagnose illness. Read full medical and health disclaimer.