Get Visible, Be Their Solution
Are You Ready To Increase Your Online Presence, Sell All Things Wellbeing From ONE Simple Space And Make It Super Easy For U.K. Customers To Find You?
Click 'play' to learn in less than 90 secs, how the Wellbeing Marketplace can help you and your lovely business!
Hello fellow wellbeing business owner, striving to make a difference in the lives of others . . .
If you're working ultra-hard to promote your business and reach new customers, yet not seeing the rewards of your effort, you're not alone!
LET'S EXPLAIN . . .
After the global pandemic events of 2020, and the enormous rise of people being online, you know as well as we do, having an online presence is the key to your business being SEEN or INVISIBLE to today's searching U.K. customers.
YET . . .
What almost no one understands in the health & wellbeing industry about visibility, is that it relies heavily on customers with a wellness problem having to know 'WHO' or 'WHAT' can help them, before they even start their search. Even though they have little or no expertise in that area!
Plus, the need for surplus time on their part to comb through pages and pages of internet results, governing bodies, modality specific directories and filter through generic event or e-commerce sites just to find you!
It's not an easy quest for them, is it?
Evidence shows that the well-known 'pain pleasure principle' is at the core of all the decisions customers make and unless the discomfort they are currently in is greater than continuing the painstaking search, customers will give up quickly!
It's time for people to be able to effortlessly connect with what you have to offer!
PLUS . . .
It's time you were able to put worrying about finding your next customer behind you, and spend more time doing the work you actually love and trained for!
It's time to make life easier for YOU and searching U.K. CUSTOMERS!
All you need is to be a U.K based small wellbeing business and have valid business insurance.
Where Would You Like To Start First?
Dedicated To All Things Wellbeing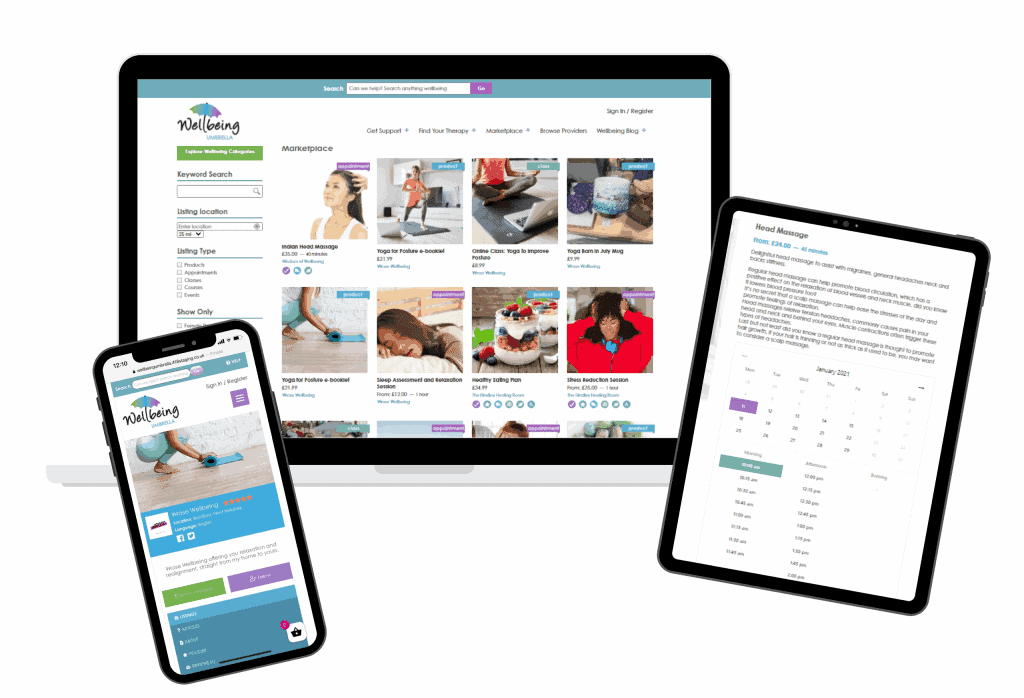 SELL YOUR SERVICES, PRODUCTS & EVENTS
Securely sell all that your wellbeing business offers from one convenient place and catch the attention of browsing U.K. customers, and audiences from our wellness events.
So, whether you'd like to promote your blogs or sell your;
Appointments
Sessions
Events
Classes
Products
Downloads
Subscriptions – coming soon!
Or even retreats,

we've

got you

covered

!
We've literally put 'everything wellbeing under one umbrella' all the while saving you and customers' precious time and effort!
SUPER DOOPER SEARCHING
Let our super smart search and categories cleverly get you in front of browsing U.K. customers based on the problems you solve, not just the therapy you offer.
So, if a customer places "stress-reduction" into our search or menu categories and you sell something that caters for this, you'll feature in their search results.
No more missed opportunities, just because the customer doesn't know what you do!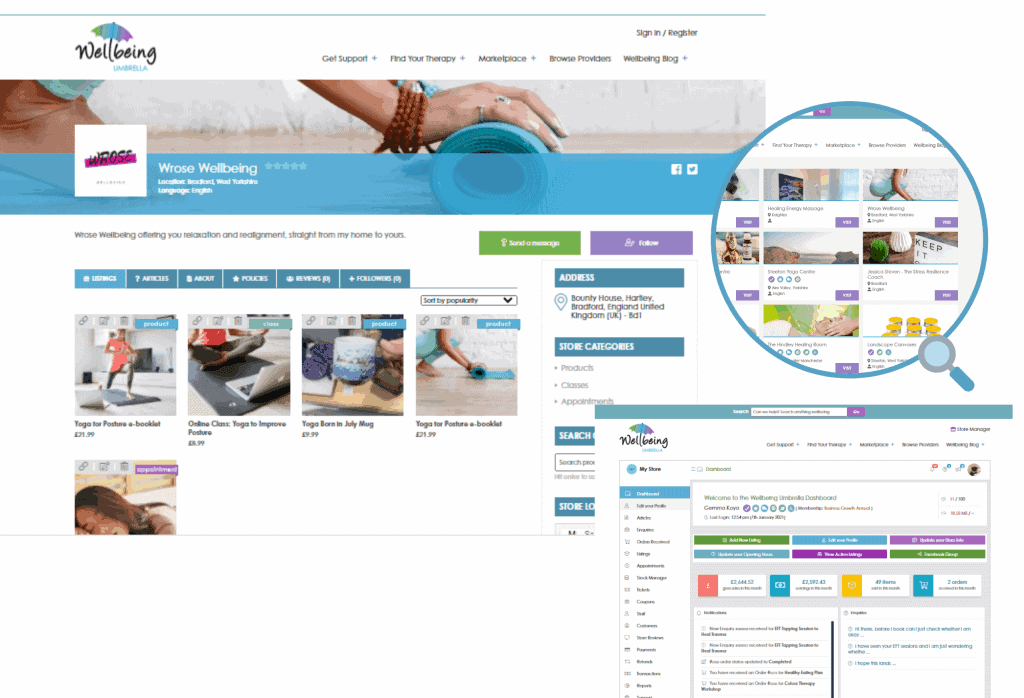 YOUR OWN WELLBEING STORE
Be a customer's wellness solution 24/7, create, update and customise your own store to suit your brand and vision. Get visible not just by your own store and our marketplace listings page, but via our 'browse a provider' page too.
Increase your KNOW, LIKE, TRUST factor, and connect with prospective U.K. customers via your own 'About section'. Encourage customers to reach out to you by sharing your story or mission via words, images and video.
Use your unique Wellbeing Umbrella web address as your own website store and simply direct customers straight to what you offer, professionally taking bookings and payments with ease.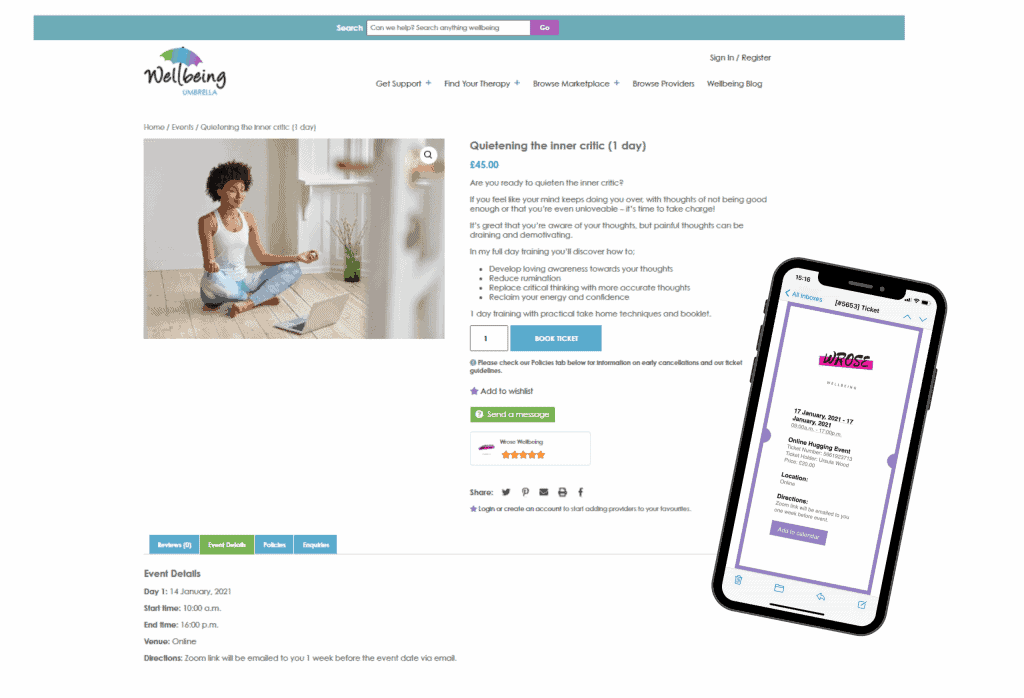 EVENTS & TICKETS
Easily create and sell tickets to your physical and virtual events. Save yourself time, copy your upcoming virtual event link to attendee tickets or send your pre-event information via a download link, and wow attendees!
Generate different ticket types for the same event that have their own stock count and price! Plus, all event tickets include a helpful 'Add to calendar' button to prevent attendees from missing your event!
Extra Features To Help Meet Your Growing Needs
BOOKINGS & REMINDERS
Take online payment and reduce pesky no-shows by creating and offering your own bookable appointments and classes whether online or in-person. Let our automated email reminder feature alert your customers to their upcoming booking. No more frustration or money worries caused by lost revenue!
Manage your own booking calendar, while conveniently adding manual bookings or cancelling and rescheduling from there too. You even can decide whether to provide customers with online cancellations capabilities too. Bonus!
PROFESSIONAL MEMBERSHIP BADGE
Part of a governing body? Provide customers with that extra peace of mind they might need with our professional membership recognition badge and search filter. Located on your listings too!
Your badge and professional body information sits nicely on your store page and is an indicator to searching customers that you have achieved an expected level of training and practice for your industry and that your professional body monitors and regulates your practice.*
*Subject to proof of active professional membership credentials & approval by Wellbeing Umbrella Ltd.
BLOG FOR MORE EXPOSURE
Attract new audiences and enhance your professional brand with your own articles or linked videos. Engage searching customers by sharing your story or validating your expertise on topics relevant to them via blog articles or your videos linked to YouTube.
Articles are visible on your own store, the world-wide-web and searchable on our marketplace for extra exposure.
TEAM ACCESS & AVAILABILITY
Got more than one person working in your business? Grant them staff permission to help you run your listings and orders. Plus choose to manage and add team availability to your appointment schedule, so clients can select and book appointments with them too.
Marketplace Tools
ATTRACT THE RIGHT CUSTOMERS
Our wellbeing marketplace quickly brings you and your ideal customers closer by sorting through your entire business profile, services, products and events based on who you cater for (e.g. women, children), the way you deliver your services (e.g. virtual, home-visits, telephone) and much more.
SET UP & TEMPLATES
We know you're busy, so enjoy our simple step-by-step setup, easy to use interface and pre-filled template listings to get you up and running quickly. Plus our supportive help centre & Wellbeing Umbrella team are on hand, if needed.
DASHBOARD TOOLS
Manage your business with helpful tools such as shipping tracking, packing slips, bulk stock manager, store vacation, support tickets, listing variations and custom add-ons services (such as gift wrapping & personalisation).
REMAIN IN THE PICTURE
With the click of a button find out your daily store visitors stats, what your top earners and top sellers are, and print reports.
BUSINESS ON THE GO
Work in real time and run your business from your pocket, with our mobile optimised site. Access and manage your bookings and orders from anywhere, at any time.

AUTOMATIVE REVIEWS
Improve your stores credibility and customer rating through automative review request emails on completed orders and bookings.

SAFE & SECURE
Day or night, easily accept and receive customer online payments made over our SSL secure marketplace and secure authentication payment processor, Stripe. Have piece of mind 24/7!*
*Stripe payment processing fee of 1.4% plus 20p per transaction (European cards).
Wellbeing Umbrella Community Opportunities
Speak, demo & boost your business profile through Wellness Events . . .
Attract further attention and brand recognition around you and your business through participation in Wellbeing Umbrella's organised WELLNESS EVENTS* to the public and within workplace settings.
Becoming a member of the marketplace also gives you the opportunity (and priority) to participate in our paid online and in-person events, a members discount is available on most subscriptions! Bonus!
While supporting us on our mission to help increase awareness around the varied health and wellbeing treatments, options and solutions the world has to offer, plus raise money for our charity partners, you get the opportunity to . . .
Expand Your Reach

– reach new audiences who are looking for what you offer, all the while converting them into loyal customers, by simply providing knowledge and answering questions!
Build Brand Awareness

– increase your opportunity to interact with the right customers, make meaningful one-to-one contacts and build trust that leads to brand loyalty!
Grow Your Email List – direct attendees to your nurture sequence, raise your profile, and build on the relationship made on the day!
Increase Revenue

– increase post-event sales by providing prospective customers with a great experience, that encourages them to purchase!
Enhance Collaboration

– expand your network and contact list by connecting and collaborating with other like-minded wellbeing business folk.
Events are a perfect way to positively give prospective customers an experience of you and your business, so that it leaves them remembering you long after the event is over!
Our paid wellness events are perfect if you're looking to attract, genuinely add value and engage with new U.K. audiences, through . . .
Informative wellness talks
Don't worry if you can't be live online or be there in person, there's opportunity to connect with event attendees through pre and post event material including educational blogs, videos and adverts!
Get ahead start at creating long lasting relationships, while easily connecting and directing interested customers to your Wellbeing Umbrella store page, listings and blogs that serve them 24/7, through our events and promotional event material!
*Wellness event participation is subject to availability, and at an additional cost
Other Community Opportunities

Connection
Make connections and enhance your business growth through our community Store Sellers Facebook group offering regular business expert knowledge, peer support and opportunity to explore collaboration.
Blogging & Videos
Gain opportunity to share your expertise and inspire others, through our guest blogging and guest video slots shared with our wellness community and wellbeing business community
Interested? As long as you are a U.K based wellbeing business and have valid business insurance, we'll be able to help you increase your online presence!
Just check out our marketplace packages below to APPLY!
The Wellbeing Umbrella Marketplace currently promotes and sells to people in the United Kingdom only.
Choose a Membership Package to Meet Your Wellbeing Business Needs
Business Basics

The basics to help you get found and grow your wellbeing business easily

0% listing & selling fees
25 Listings (product, event & downloadable)
Up to 2 Images per listing
Store Profile, About Page, Management and Business Listing
Accept Online Payments
Choice of 2 Wellbeing Categories per listing to get discovered in
–
–
–
–
–
–
–
–

Opportunity to take part as a speaker in online Wellness, & Workplace Wellness events throughout 2022 for FREE (worth £25 per event)

Sign Up Now

Business Enhanced

A full set of tools to help you reach more people and be their solution

0% listing & selling fees
50 Listings (product, event, class, appointment & downloadable)
Up to 6 Images per listing
Store Profile, About Page, Management and Business Listing
Accept Online Payments
Choice of 5 Wellbeing Categories per listing to get discovered in
Appointment Calendar and Booking Management
Client Appointment Email Reminders
Linked Products – to help you up/cross sell your products & services
Professional Membership Recognition Badge & Filter search*
Coupon Management
Up to 10 Blog Articles
–

Opportunity to take part as a speaker in online Wellness, & Workplace Wellness events throughout 2022 for FREE (worth £25 per event)

Sign Up Now

Business Growth

Customised staff management and extras for your growing business

0% listing & selling fees
100 Listings (product, event, class, appointment & downloadable)
Up to 6 Images per listing
Store Profile, About Page, Management and Business Listing
Accept Online Payments
Choice of 10 Wellbeing Categories per listing to get discovered in
Appointment Calendar and Booking Management
Client Appointment Email Reminders
Linked Products – to help you up/cross sell your products & services
Professional Membership Recognition Badge & Filter search*
Coupon Management
20 Blog Articles
Add up to 10 Staff to your Store

Opportunity to take part as a speaker in online Wellness, & Workplace Wellness events throughout 2022 for FREE (worth £25 per event)

Sign Up Now
Important information
*Professional Membership Recognition Badge & Filter search is subject to proof of professional membership credentials & approval by Wellbeing Umbrella Ltd. Evidence can be provided on sign up or once store account opened.
**Community Wellness/Workplace Wellness events are subject to availability. Discount on events are applicable to Business Enhanced Annual and Business Growth Annual subscriptions only.
Why Choose Us?
Hear It From Our Store Sellers Themselves . . .
FAQ
I am not a U.K based wellbeing business can I still join?
Unfortunately not no, sorry! The Marketplace is for wellbeing businesses based in the U.K only.
Does the wellbeing platform serve audiences and customers outside the U.K.?
No! Not yet, our site is currently set up to enable you to promote and sell to people in the United Kingdom.
What can I sell on Wellbeing Umbrella?
The Wellbeing Umbrella marketplace connects people looking for wellbeing solutions and treatments to independent wellness providers within the U.K. Everything showcased, whether goods or services on the Wellbeing Marketplace must promote either physical, mental and/or social wellbeing.

Goods belonging to franchise business brands, multi-level-marketing brands and/or network marketing brands are unfortunately, not permitted on the site.

All services and goods sold on Wellbeing Umbrella must comply with section 6 (What Can and Cannot be Sold on Our Marketplace) of our Terms For Sellers, which includes a prohibited list.

What type of business insurance do I need to be a member of the site?
We make every effort to ensure wellness store sellers on our Wellbeing Marketplace are legitimate and hold valid business insurance.

It is a condition of our Marketplace that we see up-to-date business insurance of store account holders and that you have a copy to hand when registering to our marketplace. The type of business insurance we accept includes Professional Indemnity, Public Liability and/or Product Liability.

Depending upon the nature of your wellbeing business will depend upon the type of, above listed, business insurance(s) you hold and submit to us.
What documents do I need to gain Wellbeing Umbrella's Professional Membership Recognition Badge & Filter search?
To help demonstrate you are a member of a professional body, organisation or association we accept copies of Membership certificates or cards.

Such evidence can be uploaded to us on registration or from your store dashboard once logged in, anytime during your marketplace subscription.
I only have one type of offering (e.g. all appointments) can I still join?
Yes, definitely. Although the marketplace offers you the tools to sell everything wellbeing, you're not expected to. You're welcome to use your listing allowance as you please (in accordance with Sellers rules).
Can I still create an appointment or class based listing via the Business Basic Package?
Yes, however unlike our Business Enhanced and Business Growth package that has appointment and class listings with booking schedule features, our Business Basic package enables you to sell your appointment or class based services via a product listings.

Customers can still enquire about your availability, via the message button and pay in advance with the buy button on your listing.
How do wellbeing categories work?
Each subscription package is given a wellbeing category allowance that can be used on each listing to help browsing customers find you. These categories include different therapies, wellness challenges and outcomes. Decide which category best suits your listing and amend at anytime.
Do listings expire?
No! The listings within your subscription are ongoing. You can use them all or just a few. You can even delete and add new ones, as long as it stays within your listing allowance.
Are there any listing or selling fees?
No! We're keen to support other wellbeing businesses to help the people that need them most, so we keep costs to a minimum. Instead we have annual or monthly subscription plans to meet your needs.

Please Note: Stripe payment processing fees do apply.
Does the Marketplace calendar sync with other calendars?
Our marketplace calendar is currently not compatible with other calendars. It is currently in development to enable syncing with Google calendar, of which Google is compatible with most widely used calendar systems.
How much are payment processing and payout fees?
To ensure that both you and your customers enjoy a satisfying and mutually beneficial transaction, we use Stripe as our Payment Card Processing Provider.

Payments are processed securely, through our SSL-encrypted platform. Payment Processing fees are 1.4% + 20p for European Cards and 2.9% + 20p for Non-European Cards.

There are NO pay-out fees on the site, payment will be credited to your Payment Service Account within 7 days. (Please note: Stripe don't release your first pay-out until 7–14 days after receiving your first successful payment).

I'm selling digital goods via the Wellbeing Umbrella Marketplace, do I need to register for MOSS?
The marketplace only sells digital goods to customers located within the U.K., so collection and remit of VAT on digital items purchased by customers of countries outside the U.K. is not required.

Still got questions you need answering?
Feel free to reach out to us via our Help page